Business Continuity Plan
The mission of a one-of-a-kind manufacturer
As the only alginate manufacturer
in Japan and in the event of an emergency,
we can continue to provide
an uninterrupted stable product supply.
It is one of the important
elements of "KIMICA quality".
Business Continuity Plan
Procurement of raw seaweed
In the 1980s, we became established in Chile, a country that produces raw seaweed, and acquired three seaweed procurement companies that are key to the supply chain, and built a large seaweed storage warehouse.
We always keep a large stock of seaweed collected by fishermen, and we have no concerns about the lack of raw materials even during periods when seaweed is not available. In addition, there are also no concerns about resource depletion because we use cast seaweed instead of harvesting live seaweed.
Seaweeds that have reached the end of their life cycle produce next-generation spores on the rocks and then detach from the reef. As long as cast seaweeds are used, seaweed resources will be produced indefinitely (see the Sustainability Report for details).
Avoiding geopolitical risks
The KIMICA Group manufactures alginate products at three bases in Japan, Chile, and China, and assigns the respective production items and volumes to each base according to the current economic situation and distribution costs.
Being able to achieve this kind of "international division of labor" within the KIMICA Group not only enhances cost competitiveness, but also plays an important role in avoiding geopolitical risks. For example, during the 2011 Great East Japan Earthquake, we maintained a stable product supply in collaboration with our overseas bases.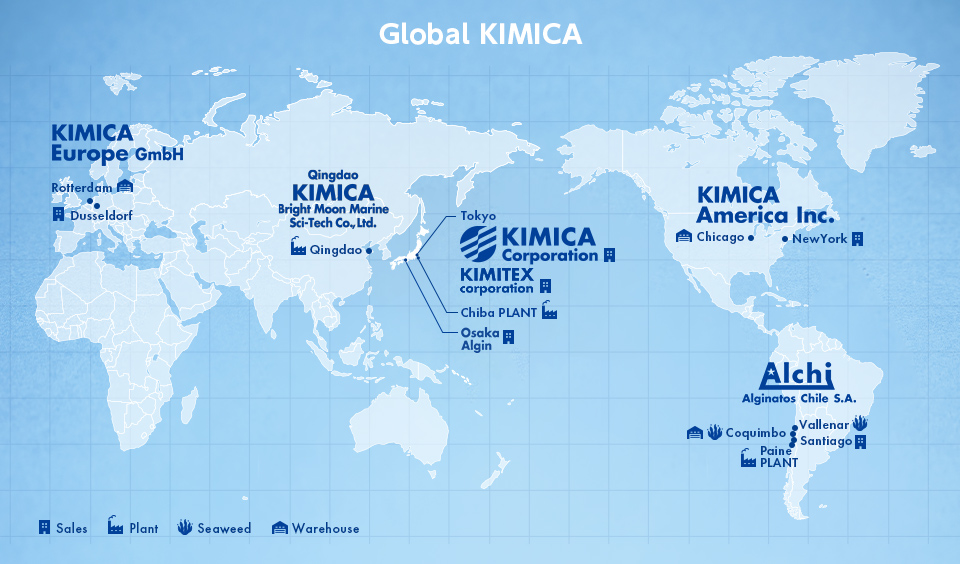 Remote work / information security
At the same time as actively utilizing the cloud for electronic data storage and business operations, we are building a dedicated VPN line to ensure security protection.
We started remote work in March 2020 immediately after the spread of coronavirus infection in Japan, and we have continued to provide a stable product supply without the pandemic affecting performance.
Maintaining a stable product supply while contributing to the prevention of the spread of infection has been highly regarded, with the Tokyo Metropolitan Government awarding KIMICA the "TOKYO Telework Award".
Maintaining employee health
At KIMICA, we believe that "quality is created by each and every employee," and we have a system in place that allows employees to work in perfect physical health every day.
For example, all employees undergo regular health examinations to maintain their health and detect illnesses at an early stage. We have established a system in which all employees can receive vaccinations (at company expense), and we also prevent seasonal influenza.
By placing hand sanitizers everywhere and measuring their temperature every morning, we are preventing the spread of infectious diseases.