Quality Management System / Food Safety
Safe and secure "KIMICA quality" created
by the participation of all personnel
Since its establishment 80 years ago, KIMICA has been continually improving alginate quality.
"KIMICA quality" is highly regarded by leading food, pharmaceutical and medical device manufacturers in Europe and the United States who require products meeting the world's highest quality standards. 
Quality management system
We are the only alginate manufacturer in Japan. We are not exposed to direct competition, therefore it is important to have a mechanism to continually improve quality proactively.
At KIMICA, we have built and operated our own "quality management system" based on the quality policy of "We will win the trust and satisfaction of our customers with the highest product quality in the world". Daily activities are carried out in accordance with the documents provided by the quality management system. We actively incorporate audits and guidance from users around the world and the quality standard accreditation bodies, leading to continuous improvement.
The secret of "KIMICA quality" is not to be satisfied compared to other companies, but to have a mechanism to improve quality, day after day.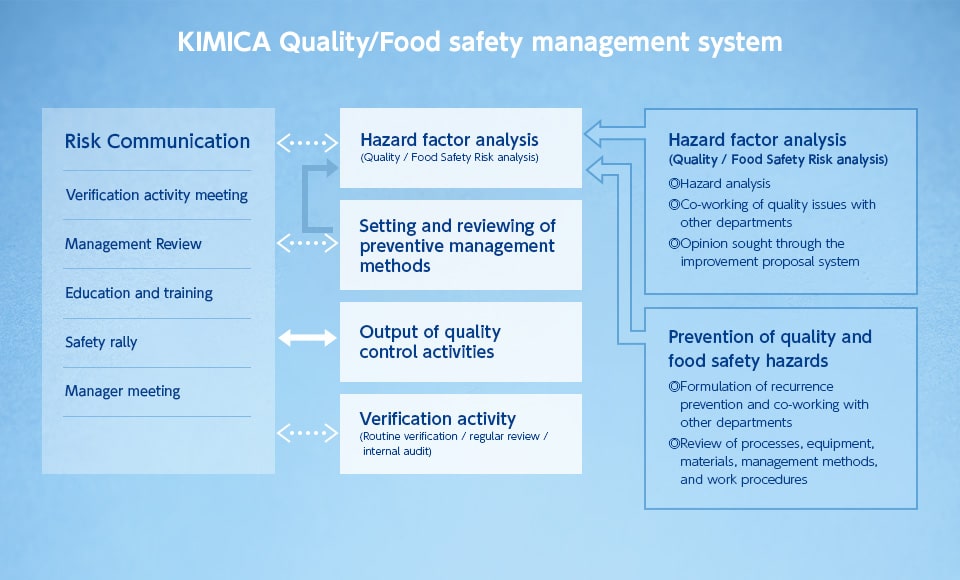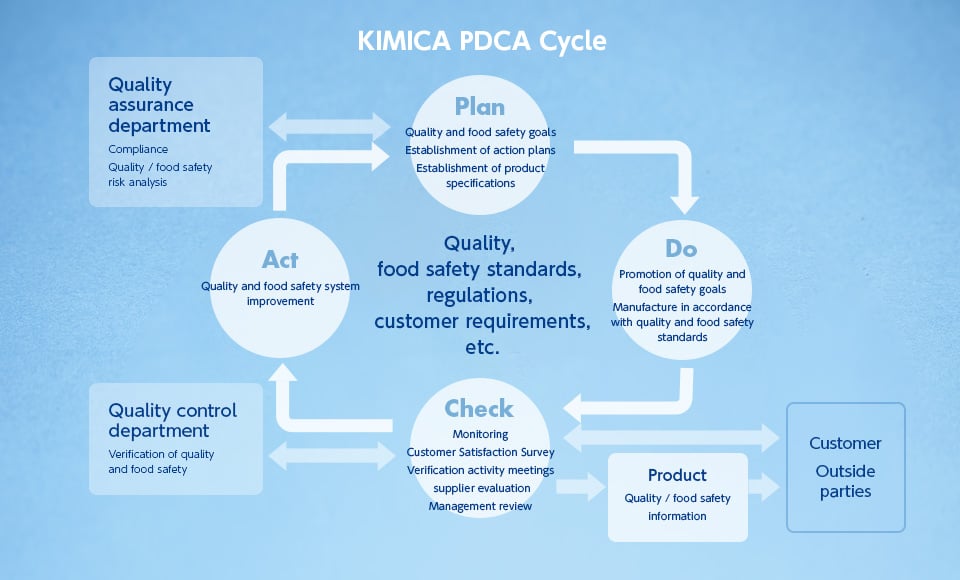 Food safety protection
Ensuring a hygienic manufacturing environment
Every week, we carry out a cleanup activity "Shiny Plant Campaign" in which all employees of the Chiba Plant participate, and raise the awareness of hygiene even for employees who are not directly involved in manufacturing.
In addition to internal audits by the Quality Assurance Department, regular factory patrols are conducted to ensure the maintenance of a tidy and hygienic production environment. At the Chiba Plant, everyone including office workers wear work uniforms.
This shows our determination to improve quality with the participation of everyone.
Employee hygiene management
At the Chiba Plant, all employees measure their body temperature and record their health status every morning when they come to work. The records are checked daily and are managed so that only personnel in good health are engaged in work.
In addition, we regularly conduct tests to screen people for subclinical infections (people who are infected with pathogens but have no symptoms) thus managing to prevent product contamination.
Quality control of raw seaweed
We have been based in Chile, a country that produces raw seaweed, for more than 30 years. We have invested in three of the most reliable seaweed procurement companies to establish a supply chain for the stable procurement of quality seaweed.
We ensure high quality through an integrated in-house management from purchasing fresh natural seaweed, which is collected with due consideration of the environment, from local fishermen in Chile to drying, crushing, storage and transportation, and then adding it into the process as a raw material.
We also collect information from suppliers on materials other than seaweed, and evaluate and select them based on appropriate standards.
Prevention of microbial contamination and foreign matter contamination
We outsource the monitoring of the factory (pest control) on a regular basis. Our company (Quality Control Department) also vigorously carries out process inspections, microbial monitoring and measurement of the manufacturing environment.
At the blending factory, which prepares the final products, it is mandatory to wear hygienic work clothes and masks / hats.
Our employees use adhesive rollers to clean their work clothes and there is a strict hand washing policy before entering this area to prevent external contamination. In the latest preparation, filling and packing lines, automation minimizes direct human involvement, with metal detectors and weight checkers to detect abnormalities and to prevent defective products from being shipped.
Product inspection before shipping
In order to confirm that the manufactured products meet the quality standards agreed with our customers, we carry out visual inspections, foreign matter inspections, microbiological inspections, and measurements of viscosity and gel strength, which are important for the physical properties of alginate. At the Chiba Plant, we carry out more than 12,000 quality tests annually, and we have a system in place to always ship perfect products.
Certification
Since 2001, Chiba Plant has been engaged in quality activities based on its own quality management system that complies with the international standard ISO9001.
In manufacturing food, we have acquired the international standard FSSC22000 for food safety, and are implementing the following quality control activities based on the HACCP* method
(for other certification information, go to the certification acquisition status).
Evaluate possible harm in the manufacturing process with the "Hazard Analysis Table"
Critical control points are managed and prevented by the "HACCP plan"
Established manufacturing conditions and inspection standards in "Quality Plan"
Insect repellent, rat hygiene, worker hygiene (hand washing, disinfection, etc.), hygiene area established in "hygiene management regulations"
Clarify and record management and inspection procedures for each manufacturing process in the "QC flow chart"
*HACCP: We analyze potential microbial, chemical, and physical harm to the production process from the introduction of food materials to manufacturing and shipping, then set critical control points for harm prevention. The Hygiene management methods for centralized management are established based on the results.