Value Co-creation Research
Unleash the potential of alginate
and meet customer needs
We will contribute to the creation of healthy and prosperous lives for people,
centered on our unique technology cultivated as a pioneer in the alginate industry.
We will then spread this new value created from Japan to the world.
Venture company led by researchers
KIMICA has developed as a research and development orientated company since its establishment.
Our founder was self-taught and developed an industrial manufacturing method for alginate. He also cultivated and developed applications and markets for alginates. The research has resulted in more than 20 patented technologies, and our founder was awarded a PhD degree by Tokyo University for their academic value. KIMICA set out as a "researcher-led venture company" in both name and reality.
The doctoral degree holders in KIMICA make full use of their experts in various fields such as science, engineering, pharmacy, and agriculture to work on research and development to meet present needs. Our accumulated know-how has been assembled and refined from scratch, and it is completely different from "knowledge learned from others" and "knowledge purchased".
Value co-creation research
"Can alginate solve the 'technical needs' that could not be met by any other material?"
Such inquiries come to KIMICA from all over the world. The contents vary widely depending on the industry, application, country and religion, and even with the unique technology cultivated as a pioneer in the alginate industry, there are some difficult problems that cannot be answered immediately. When faced with such a challenge, KIMICA will work with customers to solve the issue with the motto "Deal with anything that comes our way."
We work closely on our customers' issues (needs), determine the potential for alginate through trials with our customers, and propose solutions. We follow up until it is accepted by our customer's product development and provide "value for our customers". This kind of "value co-creation research" is KIMICA's R & D style which we have cherished since our inception.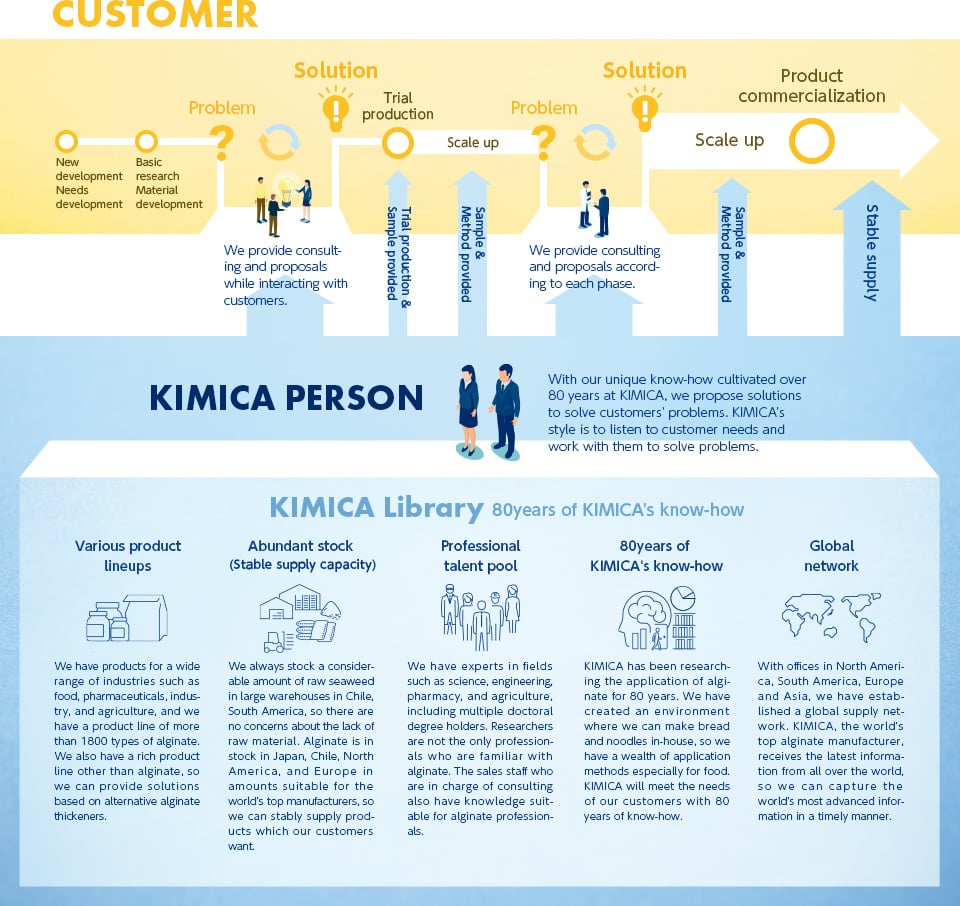 Responsibility of being the top, sole manufacturer
There used to be more than 10 alginate manufacturers in Japan, but after fierce competition, only one still survives. We currently have the world's top market share of alginate in the food and medical fields.
KIMICA survives because we have thoroughly researched "what other companies do not do" to develop the technologies, "what only we can do". It is the responsibility of Japan's one of a kind manufacturer and the world's top manufacturer to conduct research and development based on the unique technology cultivated as a pioneer of the alginate industry and to provide value (solutions) to customers.