Chitosan is generated by hydrolyzing chitin which is contained in shells of crab and shrimp.
Chitosan is a biologically originated macromolecular polysaccharide which functions as a natural polycation and has diversity in a variety of practical functions.
KIMICA CHITOSAN is a new high-quality material which has been developed using in-house knowledge of polysaccharide extraction and purification techniques.
Characteristic
Chitosan is a polyglucosamine obtained by deacetylating chitin by hydrolysis.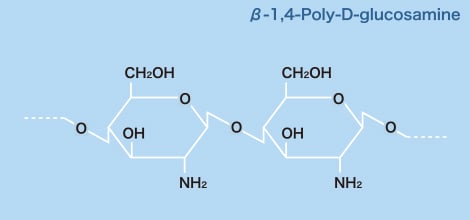 Chitosan
Properties and Applications
| | |
| --- | --- |
| Antimicrobial | Antimicrobial paper/fiber, improvements to food shelf life, pest control for crops |
| High Biocompatibility | Surgical sutures, artificial skin |
| Flocculation functions | Water treatment, protein recovery |
| Moisturizing, water retention | Cosmetics, hair care products |
| Excellent moldability | Fiber, Film, Porous structure, Sphere |
| Others | Health food material, metal absorbent, separation membrane, immobilized carrier |
Chitosan, as a solid, is stable to high temperature and strong alkali.
Becomes soluble by forming salts with organic acids, such as butyric acid, lactic acid and citric acid, and with hydrochloric acid.
The organic acid solution of Chitosan forms a precipitate or a gel in alkali.
A Chitosan solution is gelled by forming an anionic polymer colloid and poly ion complex.
A Chitosan solution forms a strong membrane on drying.
Selection Guide (Typical Products)
Industrial grade

KIMICA CHITOSAN

Viscosity
(0.5% solution at 20℃)
LLWP
5 - 20mPa・s
Products listed above are typical grades only and other grades are available.
Appropriate products would be proposed after consultation.
Inquiries about the products