Message from the President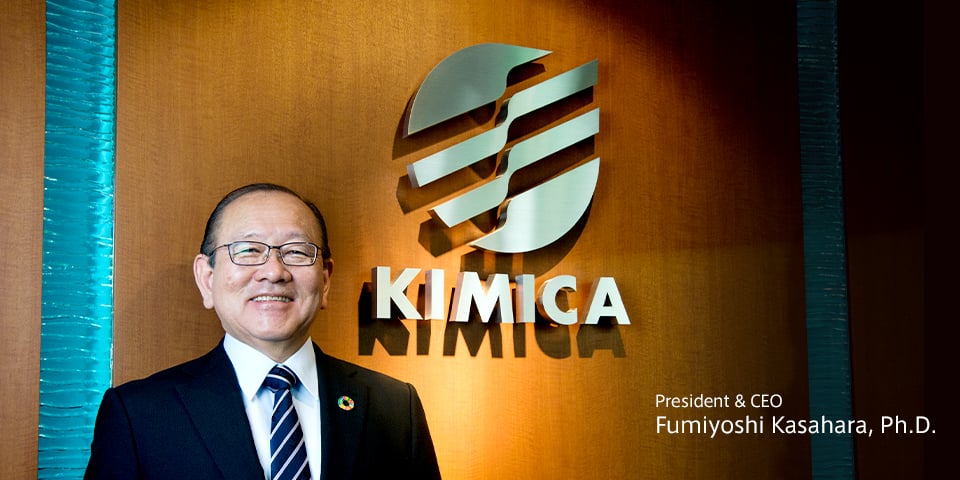 Our founder, Fumio Kasahara, took interest in discarded seaweed that had drifted onto the beach and made it a life goal to make effective use of this seaweed. In 1941, KIMICA became the first ever company in Japan to succeed in the industrial manufacturing of alginate from seaweed. 80 years since then, with pride and responsibility as the founder of alginate, our goal has been to be the "Best in the World", and to continue to develop new and innovative applications of alginate.

Alginate is being used in a wide range of fields, and has now become an indispensable part of people's healthy and prosperous lives. As focus towards environmental issues and health-related issues increase, demand and expectations for alginate continues to rise. As the leading company in biopolymers, the responsibilities imposed on us also continue to rise.

In order to answer to the demands, and to be the front-runner in this day and age, we have established a stable production, quality assurance, and research and development system. These efforts has lead us to be recognized as the front runners in achieving the SDGs. As a result, in December of 2020, we were praised as international role model by the Japanese government (SDGs Promotion Headquarters) and received the Special Award (SDGs Partnership Award) at the 4th Japan SDGs Awards.

Alginate is now used in various fields such as foods, textile products, cosmetics, and pharmaceuticals. Furthermore, we see possibilities expanding into new areas. We believe that it is our mission and social contribution to give shape to new possibilities, and will continue to make further progress.
Fumiyoshi Kasahara,Ph.D.
President & CEO