Feeds and Fertilizers
Alginate is used to process pet food, aquaculture fish food and in seedling cultivation soil. The seaweed that remains after extracting alginate is also used as an added value agricultural material. KIMICA uses seaweed, a natural resource, extremely effectively and without waste.
Applications and effects
※Alginic acid and all products derived from it are collectively called Alginate. Please note the correct product name for each application.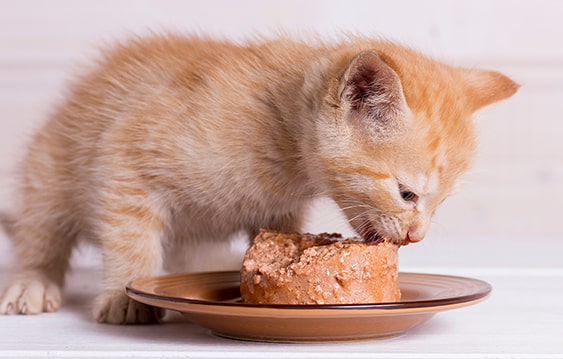 Molding Pet foods (Meat binding)
Heat sterilization maintains shape and the texture can be adjusted widely.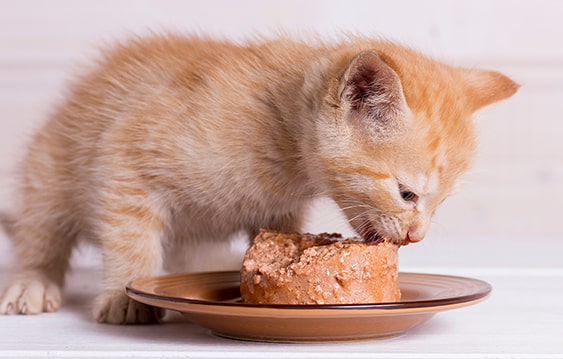 Meat chunks molded with alginate are used in canned pet foods. Molded meat is often processed using enzymes, but when it is stored in cans, the original form cannot be maintained because enzymes are damaged by the high heat required for sterilization. Alginate gels have heat resistance and do not disrupt the molded product. In addition, the use of high gel strength alginate can help adjust the product texture.
【Alginate to be used】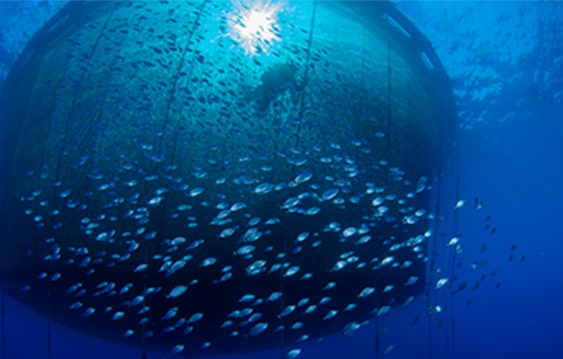 Fish food binders
Pellets are less susceptible to disintegration in water, reducing remaining food.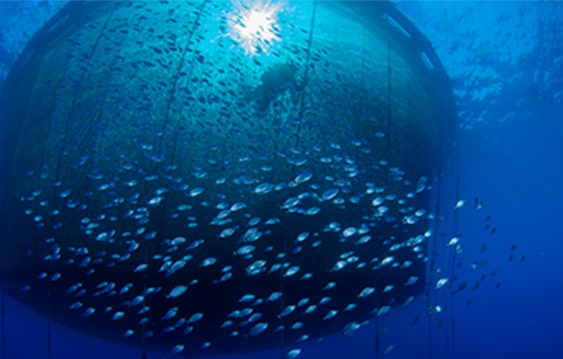 Alginate is used as a binder to prevent the food (moist pellet) given to farmed fish from disintegrating in water.If the pellets are not sufficiently strong when placed into the water, the pellets will break down due to the vigor of the fish feeding. Shattered or broken pellets are not consumed, so feeding efficiency is poor, and when the residual food is deposited on the seabed, it causes pathogenic bacteria and red tides, which have adverse effects on the environment. To improve this, it is necessary to increase the strength of pellets appropriately so that the bait is properly consumed. For this purpose, alginate is used as an effective binder.
Alginate formulated into pellets reacts with calcium and iron contained in the raw materials (fish meat and fish meal) to form a gel network, which strengthens the structure of the pellets. Moreover, the pellets left after feeding, the surface of the pellet is more strongly gelled by minerals in seawater, making it less likely to break apart. Moist pellets formulated with alginate have enough strength to survive the fish feeding frenzy. Any remaining pellets are consumed by the rest of the fish resulting in a substantial reduction in food wastage.
【Alginate to be used】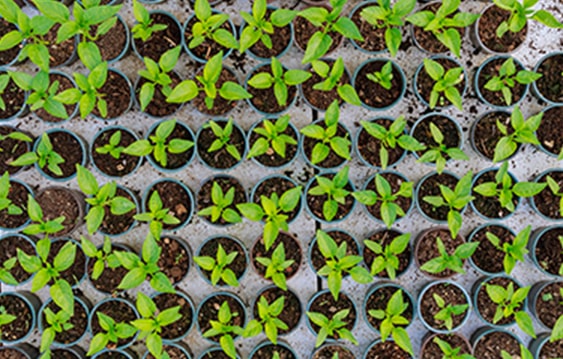 Binder of nursery soil
Maintain the shape of the root pot (plug) by solidifying the culture soil and facilitate machine transplantation.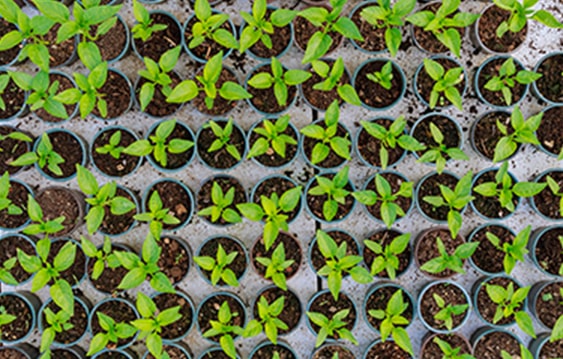 In order to rationalize agricultural operations, crop seeds are germinated in seedling culture soils for seedling breeding and then transplanted into agricultural land after intensive cultivation. Transplantation of seedlings with the culture soil can increase the rate of agricultural activity. However, when the culture soil is not solidified at the time of transplanting, the root pots (plugs) are broken down, the roots are damaged, thus impairing the efficiency of the operation. Especially in large fields, it is very important to maintain the shape of the root pot because seedlings are planted by machine. Alginate is used as a binder to solidify seedling culture soils.
In this method, alginate is used as an aqueous solution to soak the culture soil when placed in a seed nursery box. Alginate reacts with the mineral content in the culture soil to form a gel, which solidifies the root pot into a soft jelly. Seedlings that have obtained sufficient strength can then be transplanted by machine. Alginate is a component of natural seaweed, which is easily degraded by soil microorganisms after transplantation. Unlike synthetic polymers, this binder does not present concern to the environment or the crops.
【Alginate to be used】
KIMICA uses seaweed, a natural resource, extremely effectively and without waste.
Two examples are introduced on the use of alginate extracted and finished seaweeds.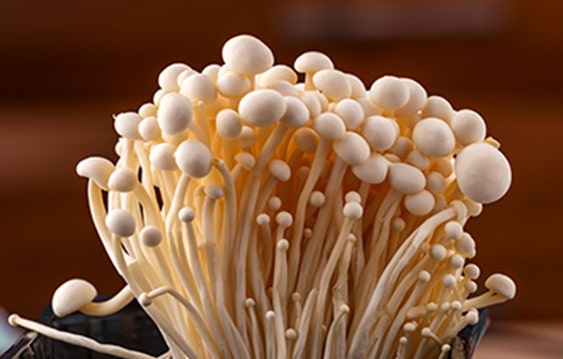 Column
Hyphal activity of Enokidake mushrooms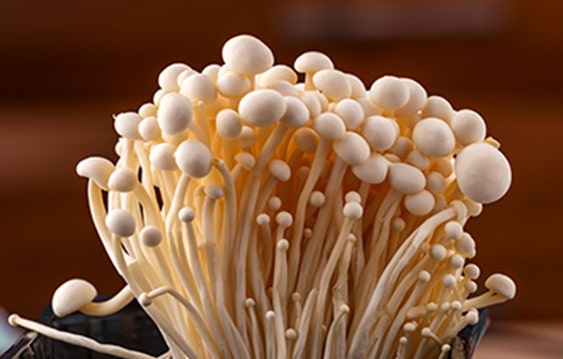 Enokidake mushrooms are cultivated by planting species on a specialized culture medium. KIMICA's seaweed powder is used to activate hyphae in the culture medium to grow thick, white enokidake mushrooms that absorb a considerable amount of water and nutrients. The use of KIMICA seaweed powder has been reported to improve yields more than threefold.
The hyphal activation of Enokidake mushrooms is thought to be due to trace components in seaweeds (minerals and amino acids). Since these trace components reside within the cell walls of seaweeds composed of tough cellulose, simply drying and crushing seaweeds does not allow them to act on enokidakes. KIMICA's seaweed powder can effectively act on hyphae as the cell walls of seaweed are destroyed during the alginate extraction process.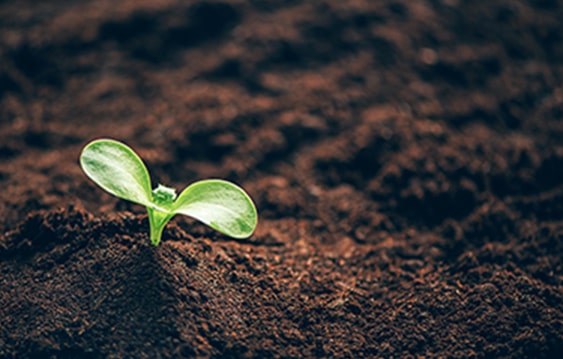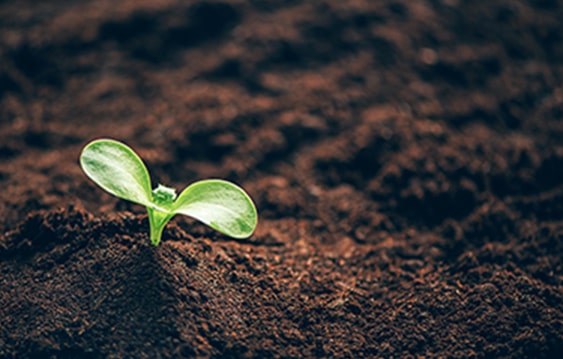 KIMICA's seaweed powder is used as a soil improver and conditioner as it contains abundant minerals of high quality derived from the ocean. It has long been known that seaweeds have growth-promoting effects on leafy vegetables and improve the sugar content of citrus fruits. Polysaccharides such as cellulose and alginate, which are the main ingredients of seaweeds, also have the effect of improving soil (the improved soil is better aerated and drained, has increased water retention and fertilizer properties, making it easier for roots to absorb nutrients).
However, strands of seaweed mixed into the soil take time to decompose, and it can also cause secondary fermentation in the soil which can adversely affect crops. Therefore, KIMICA completely ferments its seaweed powder before commercialization. These soil improvers do not adversely affect crops, making them well established and high selling products.